Smell Studio 2023
Smell Studio 2023
Smell Studio 2023 - Save this Scent!
By Jen Kitson, Ph. D. from Arizona State University.
A cross-disciplinary team of students in the Departments of Art and Geography, Planning, & Sustainability in Dr. Jen Kitson's Smell Art / Smellscape Studio course studied smell as an environmental sense this spring semester using creative geographies methods.
In collaboration with Professor Donna Sweigart (Department of Art) and the Monell Center, Smell Studio students designed a interactive sensory display for the Family Frolic day (Sunday, March 12th) at the 2023 PHS Philadelphia Flower Show to explore the aromatic signs of spring with one endangered native wildflower, trillium. The goal of this project was to creatively engage the public about the importance of smell for people, plants and pollinators. 
Trillium are threatened with extinction in our region due to human development and invasive species (predation and competition). Known as spring ephemerals, trillium are some of the first native wildflowers to emerge and bloom in the spring. Importantly, their early blooms are critical for feeding early pollinators and supporting biodiversity. They are also our olfactory heritage! To identify the signature aromatic compounds in different trillium varieties, we worked with Dr. Robert Raguso, who studies the role of scent in pollination at Cornell University.  
At the Flower Show attendees were invited to spin the trillium smell wheel and win a sniff of one of the 10 primary aromatic compounds making up the unique scent of trillium blooms, which range from sweet to stinky (see photos here). Unlike many other flowers, trillium blooms span the botanical fragrance spectrum, smelling like cheese, wine, candy and dog food. 
Attendees could compare this single scent to the full aromatic bouquet of a botanical sample, Trillium sessile (Toadshade) which we force-bloomed for the Flower Show. As a souvenir of their experience, attendees received a small, wooden trillium 'boutonnière' to take with them as inspiration to get outdoors, sniff and celebrate spring ephemerals in the region. Smell Studio concluded the semester by touring – and smelling – the amazing trillium collection at Mt. Cuba Center with Amy Highland, the Director of Collections and Conservation (see their report, The Conservation Status of Trillium in North America).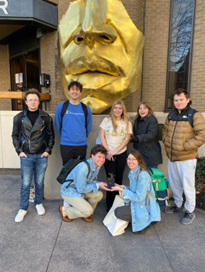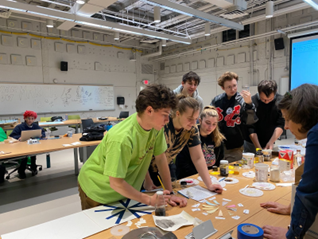 [Left] Monell scientists Dr. Bob Pelligrino, Dr. Joel Mainland, Dr. Jenny Margolis and the Monell Communications Team, Karen Kruger and Ahmed Barakat hosted students at Monell where we all participated in a smell panel to categorize the aromatic compounds in trillium using the odor wheel lexicon we created. 
[Right] Smell studio students designing the botanical ink palette to align with the trillium odor wheel lexicon which would feature on the trillium smell wheel. From left to right: Lin Vicente, Aedan Rosolia, Jenipher Gronvold, Jon Hansel, Gabriella Hart, Ike Brecker, Josh Masucci and Donna Sweigart.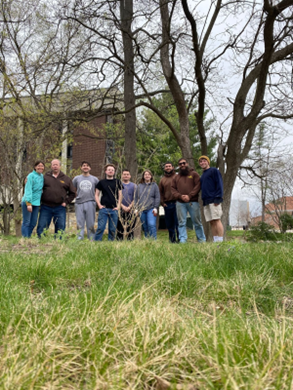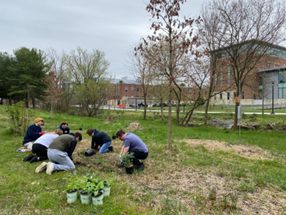 In collaboration with the Division of Facilities, Planning & Operations we are planting several trillium varieties on campus along with other aromatic native plants to support biological and aromatic diversity. Follow your nose next spring to find them! Special thanks to Kevin Muldoon, Linda Walczak, Donna Sweigart, Kirk Hayes and the Grounds Crew, including Ravon, Dave, Dan and Bobby for their ecological landscape efforts and collaboration.