Community Planning & Visualization Lab
Community Planning & Visualization Lab
Updates from Community Planning + Visualization Lab – Spring 2023
Mahbubur Meenar, Ph.D.
Director, CP+V Lab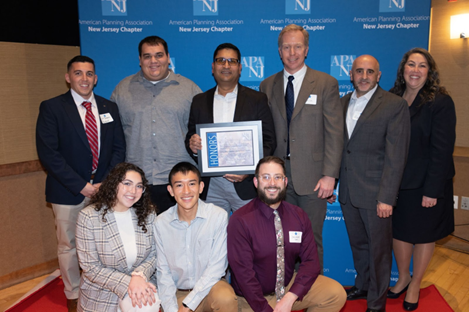 The Community Planning + Visualization Lab is proud to announce that it has received the "Outstanding Community Engagement and Education Award" from the American Planning Association New Jersey Chapter for the applied research project titled "Greening Waterfront South." The project aimed to address flooding and stormwater runoff in Camden's Waterfront South neighborhood through a variety of community engagement and education activities. These activities included photovoice, photo collages, design workshops, and focus groups, all of which allowed community members to have a say in the project's direction. This recognition affirms the CP+V Lab's commitment to community-engaged research and its dedication to creating solutions that are both sustainable and equitable.
Dr. Mahbubur Meenar, the director of the CP+V Lab and an associate professor in the Department of Geography, Planning, and Sustainability, has recently been appointed as a track chair for the annual conference of the American Collegiate Schools of Planning (ACSP) for a three-year term. In addition to this, Dr. Meenar has been selected as a jury board member for the ACSP Rising Scholar Award. Moreover, Dr. Meenar is serving as a jury member for the 2023 Smart Growth Awards, organized by New Jersey Future.
The CP+V Lab has been busy this semester with ongoing research projects and collaborations. The lab members have been working on two research projects that are coming to an end this summer. The first project, funded by NASA, focuses on enhancing green space equity, exposure, and experience by utilizing an environmental justice lens and earth science data. The second project, funded by the Rowan University Catalyst Grant, is the EMoGI project, which looks into the emotional mapping of green infrastructure. Several research assistants have been involved in surveys, focus groups, and geospatial analysis for both projects.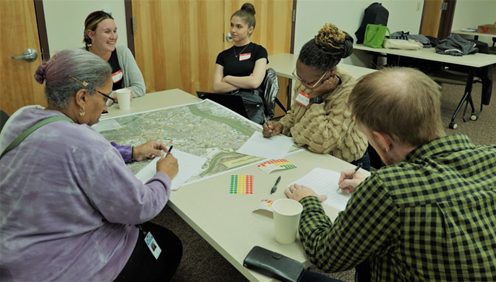 The lab has also been actively collaborating with researchers from New Jersey City University, North Carolina State University, Utrecht University in the Netherlands, University of Otago in New Zealand, and Palacký University in the Czech Republic. Additionally, the lab has maintained partnerships with several nonprofit organizations based in Camden, including Camden Community Partnership, Parkside Business and Community in Partnership, HopeWorks, and Social Responsibility Through Me. 
Recently, the lab received a research grant from the South Jersey Institute of Population Health for the CAmden Stormwater Heavy-Metal Analysis and Mapping Project (CASH-MAP). This project aims to analyze stormwater samples collected by Camden, NJ residents to identify potential heavy metal exposure to children and community members. The findings will be used to create a GIS-based map to investigate contaminant trends related to land use, socioeconomic, and public health factors.
The EMoGI project, one of the lab's ongoing research projects, has made significant progress, and research assistant Jenna Monaghan is scheduled to present the initial findings at the New Jersey Planning and Redevelopment Conference in June. Dr. Meenar is facilitating this session, which also includes speakers from the Environmental Protection Agency, NJ Department of Environmental Protection, and Camden County Parks Department. Jenna Monaghan and another former research assistant Chris Tirri are graduating this semester with a master's degree in Urban and Regional Planning. 
The lab is also proud to celebrate the graduation of three research assistants, Jon Hansel, Julia Moseley, and Robert Chiaravalloti, who are receiving their bachelor's degrees in Community and Environmental Planning (with Julia double majoring in GIS and Robert double-majoring in Geography). All three have received prestigious awards at the department's annual award ceremony
The CP+V Lab welcomes you to learn more about its ongoing projects and research by visiting its website at https://www.planviz.org.