Chair's Message
Chair's Message
Chair's Letter, Department of Geography, Planning, & Sustainability
Fall 2021 Newsletter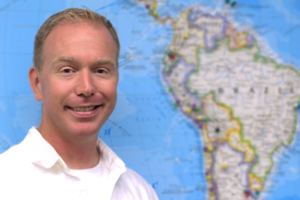 As the Fall 2021 semester draws to a close with the celebration of major holidays, the excitement and energy of the Winter season, and the sense of accomplishment that comes from the finality of closing out not only our courses but also a calendar year, I am reminded of my own (lengthy) time as an undergraduate and graduate student at three different universities and all of the reasons why I never wanted to leave University life.  These reasons include the challenges, possibilities, and excitement of learning, the peacefulness of an environment centered on helping people achieve their life-time goals, and the real possibility of doing good every day.  I am thankful for and comforted by the presence of these conditions in the Department of Geography, Planning, & Sustainability over the past year, and in this newsletter,  I report on a few examples from the fall 2021 semester.
First and foremost, GPS remains a place where the excitement of learning is not abstract, but rather comes to life Monday through Friday in the classrooms led by our faculty, and sometimes even on the weekends via field trips!   This semester, our faculty have taught 1,283 students across 70 different sections of undergraduate and graduate courses.   These courses involve regular hands-on and high-impact learning activities (see nearby), ranging from field trips to apply concepts in the real world to projects involving sophisticated mapping and spatial analysis data and software.  Our Department welcomed an additional group of graduate students to our graduate courses in Urban and Regional Planning, Sustainability Studies, and GIS, and our faculty will also be educating an additional 111 students in the Winter session.   Our faculty continue to prioritize excellence in teaching, and I am truly inspired by the work that I observe being done (and that the students tell me about) here in our classrooms.
Second, our department is committed to helping our students achieve their life-time goals.  This commitment translates not only into excellent teaching, but also into excellence in administration of our programs, to creating a supportive environment for students, and to providing cutting edge facilities in which learning and research can take place.  To these ends, our Department is in the process of seeking national accreditation of its undergraduate Community and Environmental Planning program, which involves building a comprehensive administrative infrastructure as well as hiring a new tenure track assistant professor of planning.  Our Department also moved its faculty offices into the new Discovery Hall building in July, while it has retained its teaching spaces and student programming spaces in Robinson Hall.  Some of our Robinson spaces will be improved over the next year, including a new office for the Rowan University Student Planning Organization (RUSPO) and upgraded computers for our GIS and Planning classrooms and student lab spaces.
Third, our faculty, staff, and students never cease to amaze me with the good they do here at Rowan but also in our broader communities.  I have witnessed first-hand our faculty – both full- and part-time – going to great lengths to support students during the difficult moments they experience in general, but especially given the added strains of COVID.  Our faculty, staff, and students have twice come together to Celebrate the Department's 50th Anniversary by inviting scholars who can speak to core issues of diversity and opportunity to create change for the better.  We welcomed Dr. Petra Doan from the Department of Urban and Regional Planning at Florida State University who presented on Planning with LGBTQ Communities, and Dr. Kelsey Leonard from the Faculty of Environment at the University of Waterloo who presented on the erasure of indigenous places and peoples in North America.  Finally, our full and part-time faculty, in tandem with our students, adopted 2 different families (a small and large one) to supply a Thanksgiving dinner.  Each of these expressions of goodness was truly inspiring for me, but not surprising given our special community.
I wish all of you a happy holiday season, and a safe and healthy end of the semester and year.  As always, if I can be of assistance in any way, or if you have any questions about the Department, please do not hesitate to reach out to me.
With sincere best wishes now and always,
Kevin Keenan, Ph.D., AICP
Associate Professor and Department Chairperson