A new course: Geography of Beer!
A new course: Geography of Beer!
A new course: Geography of Beer!
By Dr. Ashley York
If you drink beer, what makes you choose to drink any particular beer? Do you think about who made your beer? Do you know the specific ingredients, such as the grain type(s) and hop type(s), that are in it? Do you know about the history of that style of beer? Do you pick a beer because of advertising or labeling?
Beer is the world's most consumed alcoholic beverage and each beer's unique flavor is impacted by both the physical environment from which the ingredients come, as well as the people who made it. Through lecture, readings, discussions, field-trips, and a case study final project, students in Geography of Beer learned foundational principles of physical geography that influence food and beverage production, as well as the cultural and economic aspects of society that drive the production of certain food and beverages in particular places during a given period in time.
Geography of Beer began with the ancient history of the beverage and the Ancient Alcohol tour at the Penn Museum. Brewing began in ancient Mesopotamia and the beer was very different from what we know today: it didn't include hops, was thick, and was drunk through a straw to avoid the top fermentation layer. In Ancient Egypt, beer was even used as payment for labor, as it was drunk more to supplement diet and preserve grains. During these ancient times and up until the Industrial Revolution, women were also the primary brewers, as the process was more of a household task along the lines of cooking. As such, we also see many goddesses of beer in these ancient cultures. We learned that a German woman medical writer from the 800s is credited with the first documentation suggesting the use of hops as a preservative in beer. Then, in the Middle Ages, alewives (women brewsters) were often labeled as witches, which began pushing women out of the brewing industry. In the United States, the founding fathers are often credited with brewing their own beer, but new research has shown that it was brewed by enslaved peoples, again because the process was more of a household chore. Since most people often just  think of Oktoberfest when they think of beer, this course served to expose some of the untold histories of the industry.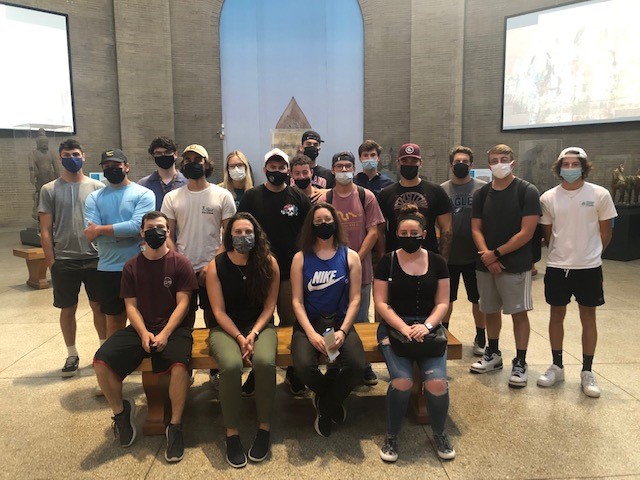 Students participated in the Ancient Alcohol tour at the Penn Museum in Philadelphia and were able to see ancient artifacts from the beer making process all the way back to its origins in Mesopotamia.
We learned about the history of the two broad styles of beer: ales and lagers. All beers in ancient and medieval times were ales owing to their fermentation at warmer temperatures, while the lager style wasn't invented until there was an ability to ferment at colder temperatures. As in ancient times, Germans often drank lager throughout the day and it was culturally viewed as a supplement to their diet. The first lager beer made in America was brewed in Philadelphia in 1840! Students participated in a field trip to the Brewerytown neighborhood in Philadelphia, where they were able to see remains of massive breweries which distributed beer across all of the United States and dominated the beer industry until Prohibition.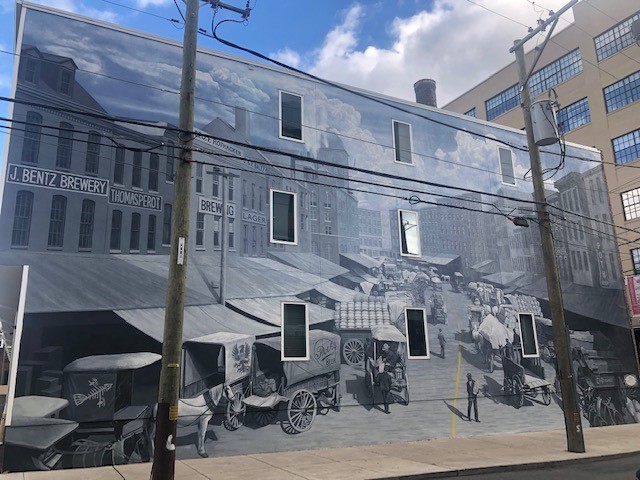 Students did a walking tour of Brewerytown, a neighborhood in northwest Philadelphia which used to be home to some of the largest beer distributors in the United States from ~1850 until Prohibition. Check out the Google map I made for our tour to learn more.
Students also learned about the modern day brewing process through a tour of Bonesaw Brewery in Glassboro and an interview with the brewmaster. We saw how modern day breweries can make sustainable choices in the use of their brewing byproducts, and learned how climate change may impact specific ingredients in beer, ultimately increasing beer prices. Throughout the semester, we also spoke a lot about the definition of craft beer, how craft beer can create community, the role of advertising, and how some of the historical marginalization of particular groups of people in brewing can still be seen in the industry today.
The course culminated in a final research project of each student's design which they presented on the last day of class. There was a wide range of final project topics based on individual students' interests. For example, topics included:
history of specific beer types including the most popular beer in the world, Snow produced in China
history of specific breweries, such as Miller and Anheuser-Busch, the creator of Budweiser
how some macro-breweries who survived Prohibition were able to do so
the role of beer in different cultures around the world and how that is different than the United States
a business model and the engineering/infrastructure requirements for starting a brewery from the ground up
stories behind the few Black-owned breweries in New Jersey and Pennsylvania
sexism in beer advertising and unequal representation of women in the industry
volume of alcohol consumed and cost of alcohol across the world and the United States
a taste test experiment to see if people preferred and could distinguish between different macro-beers
Students went on a tour of Bonesaw Brewery nearby Rowan's campus in Glassboro and got to ask Brewmaster AJ Stoll questions about the brewing process.
I thoroughly enjoyed teaching the first iteration of Geography of Beer and learned just as much as the students. Keep an eye out for the next time it is offered and feel free to contact me, Dr. Ashley York (yorka@rowan.edu), with any questions!