Dr. Kitson Joint Appointment
Dr. Kitson Joint Appointment
Dr. Jennifer Kitson Joint Appointment in Art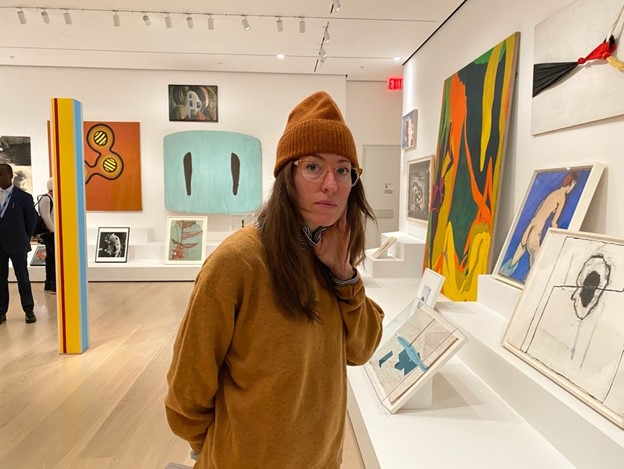 In September 2020 Prof. Jen Kitson was jointly appointed to the Department of Art in the Ric Edelman College of Communication and Creative Arts at Rowan to support "creative geographies'' as a new area of emphasis. This interdisciplinary approach describes the use of art practices and perspectives to both study and activate place, space, and environments. The creative and collaborative space between art and geography is critical to projects of social and environmental justice, public art and space, public history and memory, community design and planning.
Prof. Kitson's course offerings between art and geography programs will apply community arts practice in the public sphere. Her new courses creatively engage with places and environments through project-based learning and regional fieldwork, such as "Public Art & Social Practice" and "Art & Environment" and "Glass Arts & Heritage Landscapes."

During the Spring 2021 semester, Prof. Kitson taught a special topics course titled "Participatory Public Art" in which students developed and applied the values, methodologies, and skills for collaboration with people in local communities and public spaces through art.  This multidisciplinary group of students had the opportunity to work on several public art engagement projects, including collaboration with Thea Alvin, the Vermont based artist and stonemason whose new public artwork titled Time Sweeps is located in front of Discovery Hall.  Students worked with her to design a banner with original student artwork and a QR code linked to the Rowan Libraries campus public art website, with content they helped curate, as well as an illustrated poster to convey the interactive and artistic intentions of the artist for a public audience.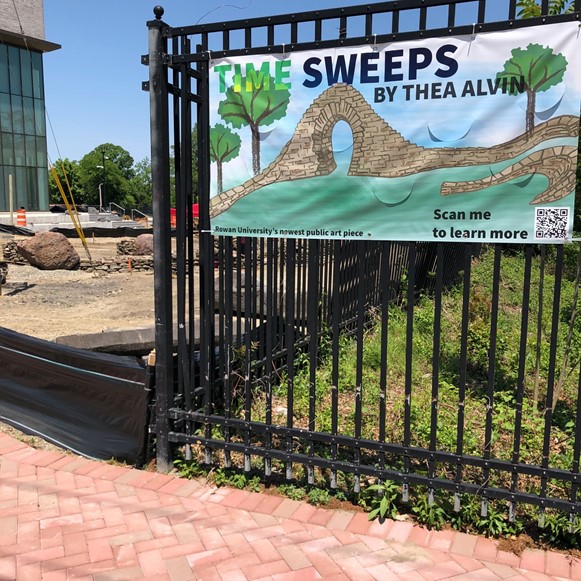 The class also had the opportunity to learn from the Philadelphia-based muralists creating the Glassboro Legacy Mural, Eric Okdeh and Jonathan Laidacker, whose participatory public art practice includes the use of 'parachute fabric' as an innovative community mural painting which allows people of all ages and abilities to paint panels of the mural which are later affixed to a wall or surface. After experiencing this technique first hand at the Glassboro Community Paint Day, the class visited the iconic Dr. J mural on a Philadelphia Mural Arts walking tour, where this method was first used by Kent Twitchell as part of the world renowned Mural Arts program. This community art practice has transformed the way communities feel about the place where they live and about art as a catalyst for change. 
The banner to the right hangs at the Time Sweeps construction while artist and stonemason Thea Alvin installs her new public sculpture in the Discovery Hall courtyard. The banner features original artwork and design by Thomas Burg (Graphic Design) and Nahida Khalil (Art) inspired by the sculptural design and intentions of Time Sweeps, in collaboration with Thea Alvin and other Participatory Public Art students. For more information visit the Campus Public Art designed and managed by Mike Benson, Coordinator for Rowan Libraries' Digital Scholarship Center: https://publicart.rowan.edu/sculptures/time-sweeps/.