Without Geography, You're Nowhere
Without Geography, You're Nowhere
Without Geography, You're Nowhere: My First Year at Rowan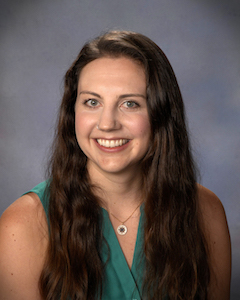 Ashley York, Ph.D.
Lecturer, Department of Geography, Planning and Sustainability
Rowan University
Having sat on faculty hiring committees when I was in graduate school, we always spoke of the candidates as being "the best 'fit'." Then I experienced this first hand when I myself became a candidate during the last year of my PhD and began applying to (and being denied from) faculty positions. I was always left with this question of "what does it mean to 'fit'?"
I began teaching as a Lecturer in the Department of Geography, Planning and Sustainability (GPS) at Rowan in September 2019, and although it was an interesting year to begin my teaching career, I truly am grateful it was as a part of Rowan GPS. Here, I instantly felt at ease, that I could be myself, and like I had known my colleagues for years as soon as I began. After only about three weeks of the fall 2019 semester, one of my colleagues said to me after my first faculty meeting, "I'm just so glad you're here." Then I finally understood that thing that I had been trying to describe for so long – not that I actually can describe it now – but I finally felt it. It was almost a feeling of relief, and a recognition that "Oh, I see why I 'fit' here." I even shared this feeling on my Facebook page on Sept 24, 2019. To say the least, it was humbling. And I only continue to be humbled by the fact that my colleagues and students also seem to think that I 'fit' in GPS at Rowan.
There were so many things that happened during that first fall 2019 semester that made me feel fortuitous, like being mistaken for Professor Megan Bucknum's sister (maybe from all the rides home to Philly she so graciously gave me) or wearing nearly the same outfit as Dr. Jen Kitson. Many of the reasons why I'm honored to fit in at Rowan GPS were only underscored when COVID-19 hit in the middle of spring 2020. One way in which I witnessed this was through the inaugural semester of the GIS Mentors program.
The brainchild of the GIS Program Director, Dr. Zachary Christman, the GIS Mentors program was finally realized this spring when I was able to help oversee it as an additional GIS faculty member. The GIS Mentors program is designed to be a group of students who have demonstrated excellence in their geospatial classes, a willingness to help other students succeed in their GIS education, as well as a desire to apply GIS skills in support of faculty research and engage in other professional opportunities. In spring 2020, we chose senior GIS students Kristina Wallace and Jon Sharp as the first GIS mentors (or guinea pigs).
The spring 2020 GIS Mentors program began in-person, and prior to the COVID shutdown, the mentors were able to engage in multiple local community opportunities. For example, we visited Hopeworks in Camden, which connects young people who have undergone personal hardships with technology skills, including GIS. We were also trained by Rowan alumni Chris Kahn of American Water on the use of GPR (ground penetrating radar) and with respect to a GNSS (global navigation satellite system) at the Rowan Technology Park. Kristina and Jon also received compensation from Cooper's Ferry to map potentially vulnerable populations in Camden using a range of demographic data. Working with the community, Dr. Christman, and the mentors was only making my feeling of 'fitting' even stronger.
But, for me, what was even more amazing was to watch the interaction between Kristina and Jon in the GPS office computer lab with the (especially) freshman GIS students. I loved walking into the lab and seeing them seated next to another student; seeing them helping those students figure out the GIS problem; seeing them helping those students feel like they, too, have a place, and can 'fit' in the GPS department. Kristina and Jon's willingness to go above and beyond to help other students was something that didn't even pause when COVID hit mid-spring semester: their assistance merely changed formats. They continued to host virtual office hours and to help students finish their GIS coursework and final projects strong. And, hopefully and maybe more importantly, they helped create an environment where each and every GIS student belonged, and each student's success was important, no matter their background, major or next college steps. For example, this mentorship included meeting at alternative hours to help a GIS student who was also a first-responder during (what was) peak COVID this spring. Very much deserving, Kristina was awarded the GIS Medallion and Jon was awarded Outstanding Senior when they graduated (virtually) in May, 2020.
In the fall semester of 2020 we were eventually able to organize the GIS mentors, and we were happy to welcome back Jon Sharp, who is now working on his Master's in Criminal Justice at Rowan, and to introduce sophomore Jimmy Brunker, who had already done outstanding projects in his courses and participated in faculty research. Jon and Jimmy have been holding weekly virtual office hours, offering help to students finishing up their GIS course lab assignments or extra guidance for those thinking through GIS course final projects. In the future, we look forward to continuing to facilitate engagement of the GIS mentors with more community partners in-person, and we already have plans for a virtual GIS/Geography career-panel and "mapathon" in the spring 2021 semester.
While I have chosen to largely focus on the GIS Mentors program here because it has been such a large part of my first year(s) at Rowan GPS, it is important that I briefly mention a few other examples of what has given me my sense of 'fit' during what was such an unconventional first year of teaching. All of my colleagues have been so generous, offering to be my emergency contact knowing that I live alone. I even received phone calls from the GPS Department Chair, Kevin Keenan, asking about the health of my cat. So many of them have constantly checked in on me as not only a new teacher, but also as a human. This is truly invaluable since I was so new geographically when I began at Rowan that I hadn't yet established large personal social networks when COVID hit – I thought I only had my cat, but I also had so many colleagues/friends.
Involvement with the Rowan GEO Club, hosted by Professor Rich Federman, also played an invaluable role. He continued to host virtual GEO Club meetings in the spring 2020, and while we couldn't do any of the group activities that were planned, these sessions provided opportunities for students and faculty to release frustration and discuss our human experiences during the pandemic. Professor Federman has continued to host virtual GEO Club meetings in the fall 2020 semester, including movie nights, game nights, and sharing hiking stories, and I have thoroughly appreciated taking part in the activities.
In fall 2020, the department, led by the initiative of Professor Federman, recently hosted a virtual alumni panel and I felt there was one central theme that came out of it from former students reflecting back on their GPS experiences: sense of community. It was amazing to hear the alumni mention their specific professors or classes that were so formative in their lives and careers. It was also amazing to hear them express those feelings of a sense of belonging at Rowan GPS; those feelings of a sense of 'fit', that I too almost immediately felt. I look forward to the day when I am specifically mentioned at an alumni career panel, like the GPS colleagues I already have so much respect for.
In fall 2020 (and beyond) I am continuing to work with the GIS mentors, and I am also serving as the chair of the GPS Diversity, Equity and Inclusion (DEI) Committee. While I have been lucky enough to have this near-instant feeling of 'fit' (as a cis white woman), it is important to note that sometimes these feelings of belonging, or 'fit', start with the faces we see and the authors we read in the classroom: the ability to imagine ourselves actually doing what we want to do. Geography as a discipline lends itself well to issues of DEI, as it is inherently interdisciplinary. But as a department we can do better. With this new committee, a strategic plan, and resources for faculty, we hope to ensure that all voices, experiences, and backgrounds are able to feel that sense of 'fit' that I have been able.
From my experience so far at Rowan GPS there aren't power dynamics: there is just mutual respect, where we as professors learn just as much from our students as they do from us. For example, even before COVID (during my first semester) I told my students that I wasn't feeling well, because of anxiety and an underlying heart-condition, but a beautiful thing happened: it opened up a conversation. After that, my students told me the truth. Some students were on the same heart medication as me; some students felt comfortable telling me they just needed a mental health day in their email about missing class. This is human. This made me feel like I 'fit' and, hopefully, that students did too. They knew they didn't need to hide some of these taboo issues and that they would have my respect regardless. They learned they could potentially one day do my job while having different abilities. As a professor, it is one thing to say you appreciate open communication at the start of the semester when the students don't know you, but it is different to practice it. COVID has done nothing but make this more of a reality, and I have by no means been perfect.
Overall, I just feel so lucky to consider both my colleagues and my students friends. COVID-world, with cats as teaching assistants (I can't imagine the experience of my colleagues with children!) and doorbells ringing on my end, or for students with parents interrupting and dogs barking, has only made this reality of humanness more real. While I desperately miss having students open-up when they feel safe in my office, or kneeling next to a student in the classroom while they click through ArcGIS, some of this COVID realization is that all of us have lives outside of these campus spaces, and that should continue to be acknowledged once this all ends. Mid-pandemic or not, at Rowan, I don't feel like I'm an employee, but rather a truly valued member who 'fits' into a group of faculty, staff, alumni and students comprising what is a big, beautiful, and ever-growing GPS family. Without geography you're nowhere, but without geography, I'm no one.