Chair's Message
Chair's Message
Chair's Letter, Department of Geography, Planning, & Sustainability Spring 2021 Newsletter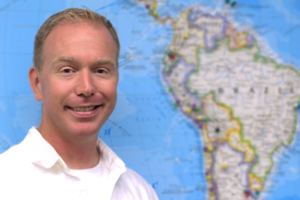 The end of the spring semester is usually a time of much joy and excitement.  By May, spring is in full bloom with warm weather and bright flowers lifting spirits, students and faculty are taking a breadth from the rigors of an academic year and are preparing for a much needed break, and there is the wonderful magic and excitement of commencement ceremonies across the campus.  There is nothing quite like the sense of accomplishment and passing a life's milestone that the commencement season embodies.  Though of course this year is quite different due to the ongoing Covid-19 crisis, there is still much to celebrate and be thankful for.
First and foremost, the Department's graduating class of 2021 deserves a hearty pat on the back for a job well-done.  This class most certainly has distinguished itself as a group of resilient, hard-working students that persevered with their studies under unprecedented duress and technological transformations that directly impacted the learning environment.  In the darkest moments of the worst pandemic in 100 years, it was the eternal optimism of our students and their unyielding strength in persevering that gave me hope – and I know gave hope to many of my colleagues.  I am grateful to have been a part of a department with such amazing students.  They are truly inspirational, and knowing that such bright and dedicated people will be advancing our society in the near future gives me great confidence for a better tomorrow. 
Second, though the move to online education and Zoom instruction was not planned in Spring 2020, the resulting year of experience in these instructional modalities has left our faculty with an improved and expanded capability to deliver instruction.  Our experiences over the past year will help the department deliver a curriculum that meets the needs of a diverse group of students under diverse and often changing circumstances in the future.  In addition, the Department faculty have expressed an unprecedented interest in developing online courses through Rowan Global, which will translate into an expanded mixture of both online and traditional face-to-face instruction for our students in the years to come.  These options should help the department reach as many students as possible regardless of where the students happen to be.  Finally, the move to an exclusively online learning environment for the last year has required the faculty to generate innovative online pedagogies that will serve our students well in a variety of instructional contexts.  So, while there is much to lament about the devastation wrought by Covid-19, one small silver lining is the expanded instructional expertise that faculty have acquired over the past year.
Third, our department is closing out the academic year with a planned move to the new Discovery Hall building that will house the School of Earth and Environment and its three departments.  Our Department will join the Departments of Geology and Environmental Science in one location, with shared instructional, office, and student extra-curricular programming space.  This move will yield unprecedented opportunities for collaborative teaching and research.   Our Robinson spaces will be transformed into advanced research and laboratory space to support ongoing funded projects, as well as student space to support the Rowan University Planning Student Organization, the GIS Mentors, GeoClub initiatives, and Youthmappers.  Though the Covid-19 crisis emptied out Robinson for the past year, as we move towards reopening in the fall and a return to campus, the Department will have even greater access to high quality instructional, research, and office space for conducting the cutting-edge research and delivering the high-quality education for which GPS is known.
I'd like to close this letter by reiterating how much gratitude I feel for having had the opportunity to be part of the Department of Geography, Planning, & Sustainability during the crisis of the past year.  In the moments of my own personal and professional despair at the devastation being wrought by Covid-19, it was our students and faculty that gave me inspirational hope.  Given the culture of perseverance and dedication to inquiry that exists within GPS, I remain convinced that a brighter future awaits.
Please accept my sincere best wishes now and always.
Dr. Kevin Keenan, Ph.D., AICP
Associate Professor & Department Chairperson