RUSPO Update
RUSPO Update
A letter from RUSPO — Fall 2022
By Robert Chiaravalloti, RUSPO President
Rowan University Student Planning Organization (RUSPO) had a busy semester with five meetings, one guest speaker, one field trip, two events (World Town Planning Day and Haunted Student Center), and Adopt a Family food drive. I will share some details on our Philly field trip.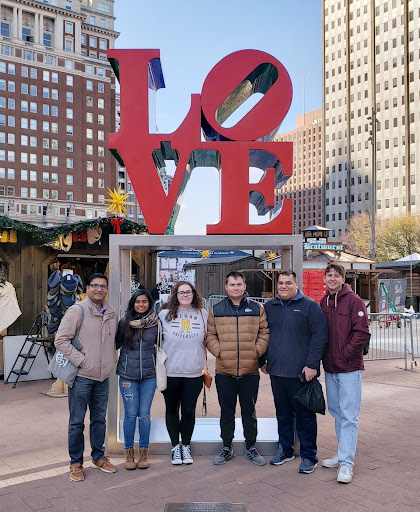 On November 18th Ruspo took a trip to Philadelphia. We visited Philadelphia City Hall and Reading Terminal Market! We met at the Collingswood Patco Station and took the train into the city. We got off at the last stop which was the 15th and 16th Locust. We then walked North towards Love Park where our city hall tour was meeting. 
Since we were slightly early we decided to stop at the mall at the base of One Liberty Place. It was very interesting to see what a mall on the base of a skyscraper looked like. This was a very fun experience. The group enjoyed exploring the mall and everything it had to offer. We then ventured towards Love park. We visited the day before the Christmas Village opened so we got to see how all the vendors were preparing for holiday shoppers. 
Then we met up with our tour guide and walked across the street towards City Hall. Our tour guide was a retired city planner! He sprinkled various city planning-related pieces of information about the planning process in Philadelphia. Inside city hall, we were able to visit the mayor's banquet room, the city council chambers, and archives room, and much more! 
After we went to Reading Terminal Market. We explored hundreds of businesses. I bought a shoofly pie and cookies. We had an amazing time in Philadelphia. We all hope to return to the city next semester!