Pole pole to the Roof of Africa
Pole pole to the Roof of Africa
Pole pole to the Roof of Africa
by Dr. Ashley York
Lecturer
Department of Geography, Planning and Sustainability
At midnight, on the eve of International Women's Day 2023, Dr. Ashley York joined six women she had known for less than a week to reach the Roof of Africa.  With the help of six Tanzanian porters and in subzero temperatures, they began to walk pole pole (slowly, slowly in Swahilli).  After a distance of only 3 miles, but almost 7 hours later, at sunrise we would all reach the 19341 foot (5895 m) Uhuru Peak and summit of Mount Kilimanjaro. While reaching the iconic sign was monumental, the trip was never really about the summit; it was about every step along the 82 mile, week-long, physical and mental journey to get there and back again together.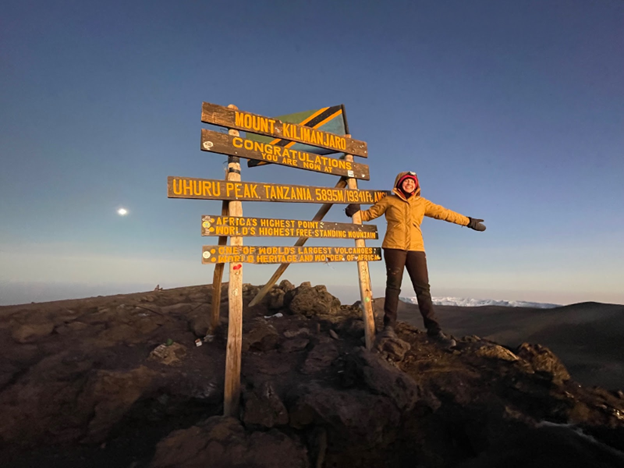 The trip was organized by WHOA (Women High on Adventure) Travel, which runs on a model of: sustainability, no single use plastic products; womXn empowerment, working with women guides and businesses; and supporting local, grassroots organizations. With these overarching goals, WHOA seeks to create an inclusive environment and a strong sense of community. For example, on the Kilimanjaro trek I participated in: we had the most women Tanzanian porters (~5 out of 28); porters were paid some of the highest wages and received some of the largest tips; porters had guaranteed access to any hiking gear or equipment they may need; these were owing to their membership with an equivalent of a "porters union"; and we had the opportunity to support a woman-owned and deaf-woman-run business of sewing a variety of reusable bags/backpacks from reclaimed fabrics and other materials. All porters were born in Tanzanian and you can't hike Kilimanjaro without a porter agency, making it very important to the local tourism economy and even more important to make sure you are working with an ethical group whose labor isn't being taken advantage of.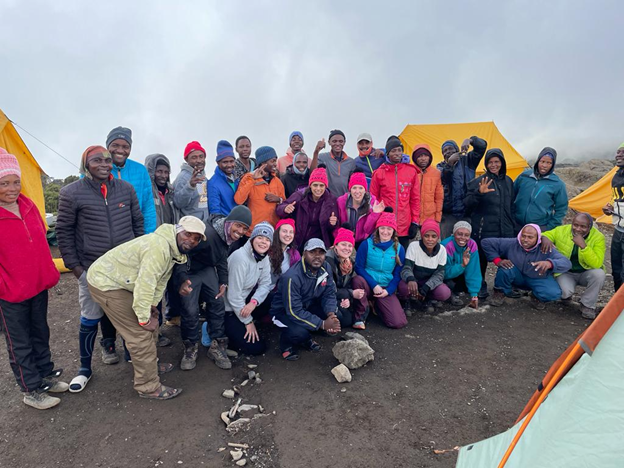 The porters are absolute superheroes! They carry the vast majority of your gear, and they do so by balancing things on their heads! The hikers were only responsible for our daily needs like water, snacks and layers. The porters carried our shelter, food, extra gear, and even a small toilet - it was seriously more like glamping (glamorous camping). We also had a chef and a waiter, so the food wasn't your typical dehydrated backpacking meals. We ate everything from steak and chicken to spaghetti, pancakes and eggs, as well as more traditional pumpkin or cucumber soup. I was honestly not expecting the phenomenal food…nor the convenience of a toilet ;) On a typical day, three guides hiked with us, while the remaining porters hiked unbelievably faster in front of us to get our home for the night set up at the next camp. We were also greeted by Swahili songs everyday when we reached our beautifully already set up camp, which truly created such a supportive environment.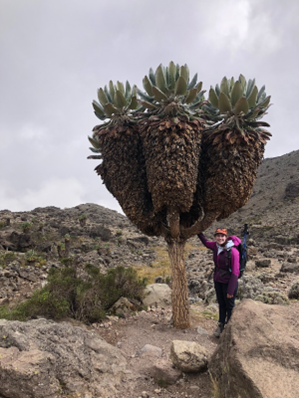 Kilimanjaro is a dormant volcano that has five different climate zones as you go up in elevation: civilization, rainforest, moorland, alpine desert, and arctic ice. We took the Machame Route which takes about five days up, and two days down. This is the most popular route (46% of hikers) owing to its consistent acclimation, or slowly increasing exposure to higher elevations, with the majority of the time being in the moorland climate zone at ±13000 ft. The moorland region is known for its giant (Dr. Seuss-looking) groundsels, Dendrosenecio kilimanjari or common name, Senecio.
I have done a lot of hard hikes before so maybe this will sound like a bit of a humble brag, but the majority of the days seemed manageable to me and my body was feeling strong. Day 3, we went from Shira 2 Camp (3840m) to Lava Tower (4600m) to Barranco Camp (3950m), reaching our highest elevation yet at Lava Tower. This day felt long at ~14 miles and with temperatures constantly changing, so despite being in a state of tired delirium, we were really grateful to reach the most phenomenal campsite of the entire trip. And luckily day 4 of the hike from Barranco Camp to Karanga Camp (4000m), was one of the most fun. We scaled the Barranco Wall, which includes some low-grade bouldering and the "kissing wall" where you are squeezed up against the rock as you shimmy along with your face nearly touching. At the top of the Barranco Wall there was a dance party and all hikers from all groups were in generally good spirits as we then continued on our way towards another few camps before the summit. By this point, the women group of hikers had truly bonded on this common goal. We had developed inside jokes together (lots of Mean Girls and Bridesmaids and Lord of Rings movie references); we had shared stories of why we were there and doing this hike; we had cried together. We were off the grid and hadn't talked to our loved ones in days, and we were all each other had for support.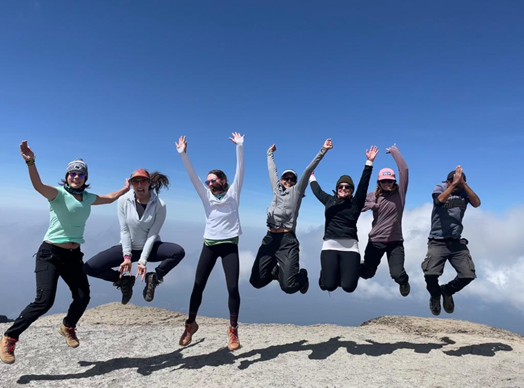 We arrived at a smaller, limited campsite a little bit higher in elevation than the main Barafu Camp (4673m) early in day 5 in order to rest; summit night was coming. As such, we ate lunch, we rested, we ate dinner, then we tried to rest in preparation for our midnight push to reach what we had been working for. We had acclimated; we had been checked for our oxygen levels and vitals; we had been prepared by our guides on the conditions; and we were finally ready to summit. 
At midnight on the eve of International Women's Day, we began to walk pole pole towards our summit goal. I don't know if anyone actually recorded the temperature, but I have a lot of cold weather experience. Based on the wind, the fact that I was wearing five top layers, three pairs of pants layers, as well as a balaclava and WHOA beanie, I would estimate it was between -10 to -20°F.  Typically, we were only accompanied by 3 guides while the remaining porters trudged ahead to set up camp, but for summit night, each of us six hikers had our own guide/porter with us for safety and aide. Our porters offered to carry our day packs from the get go that night, but most of us were stubborn, wanting to do it on our own. Not too far after we began, each of us started to rely on our superhero porters to carry our bags, while we just tried to make it up, still struggling while carrying nothing but our own bodies. Pole pole.

If it weren't for the darkness of midnight, I don't know if I would have made it. The darkness made it so surreal. We couldn't even see how far away we were from the summit or how steep the trail was. All I could do was focus on the boots in front of me illuminated by my headlamp and count my breaths with every step. Pole pole.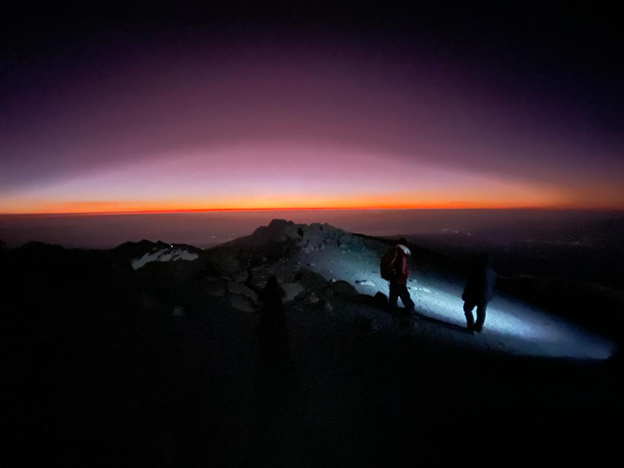 Once we reached Stella Point (5756m), the sun had just barely started to come up and the reality began to sink in that we were going to make it. We were going to reach the Roof of Africa. And sure enough, as we continued to walk pole pole, the sign came into view in the light of the sunrise on International Women's Day. Tears began to stream down my wind-beaten cheeks as I made my way to one of the most surreal moments of my life, one of the accomplishments for which I am most proud, and the 19341 foot (5895 m) Uhuru Peak and summit of Mount Kilimanjaro. I would not have been able to do it without the support of the other WHOA women and the Tanzanian porters, and I was so grateful for the strength of our community as we all stood at the summit sign together on such a significant day for women's history. Six strangers with a common goal had finally reached that goal, and they had reached it together as sisters.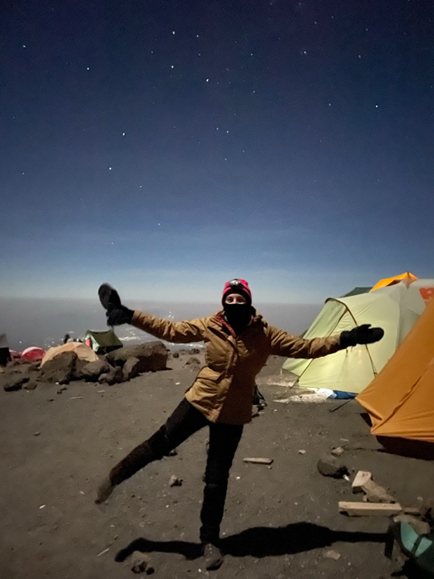 Weeks after the fact and back at Rowan, I was moved by a statement from our School of Earth and Environment Dean Lacovara during his presentation to the GEO Club (check out more about GEO Club here!) that did a good job of summing up these types of surreal moments in our lives. I don't remember his exact words, but the general sentiment was: nothing ever notable in your life comes when you're in a state of comfort. And looking back on my life, I began to realize that I thrive on these types of experiences outside of my comfort zone. I flew across the world to an entire continent I had never been to to meet up with a group of women I had never met. But I had done this before: I've moved across the country by myself in pursuit of graduate school; I've taken summer courses in Alaska and Colorado with people from all over the world where I knew no one at the start; the first time I rented a car was to drive the entire length of New Zealand (on the other side of the road!) by myself. These are just a few of the experiences that have shaped my life, and none of them came from a state of comfort. 
But this doesn't only mean you should do some sort of big summit hike or trip, you will also feel nervous on the day of your wedding; the day you have a child; you may struggle in a GIS class but you will feel so accomplished when you finally figure out the solution to a map problem. So my advice is to challenge your state of comfort. Take the tough class, apply for grad school, drive across the country with your friends, hike by yourself, go to a movie by yourself, travel and get out of New Jersey, experience other cultures, unplug your phone to recharge your batteries. You can do hard things. 
The WHOA women rewarded ourselves for our summit accomplishment by going on a two day safari (in an old-school open top land cruiser) in Ngorongoro National Park and Tarangire National Park. In these parks we got to see all your classic African animals in action, including lions eating their prey, baby elephants trumpeting while chasing after their mom, and giraffes, wildebeest, zebras, and wildebeest all drinking from the same watering hole. It was so beautiful and I cried a lot of joyful tears. If hiking a giant mountain isn't your thing, safari is very accessible and a truly amazing experience to be up close and personal with these unique animals in their natural habitat. 
Feel free to reach out to me (yorka@rowan.edu) to learn more about hiking Kilimajaro or how you can best complete it yourself (woman or not :)! Credit to the WHOA women for some of these photos.