Department Staff
Department Staff
Department Staff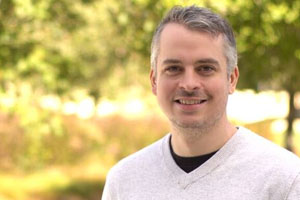 Steve Berg
National Guard GIS Program Manager
B.A. in Environmental Studies from Rowan U.
bergs@rowan.edu
Robinson Hall 301
Steve Berg is the GIS Manager for the National Guard's Construction and Facilities Mapping Program hosted in Rowan's GeoLab. He instructs interns on how to manage 45+ military installations in NJ and helps them translate their coursework to a professional GIS office environment. His previous work experiences include Real Property and GIS management for gas, electric and water utilities.

Mike Brein
GIS Technician and Support Specialist
B.A. in Geography from Rowan U.
brein@rowan.edu
856.256.4861
Robinson Hall 315H
Mike Brein plays the role of technical support for the Department of Geography, Planning and Sustainability. He is responsible for the maintenance and upkeep of hardware and software, and supporting various departmental and faculty projects.

Daniel Dantinne
Administrative Assistant
dantinne@rowan.edu
856.256.4811
Discovery Hall 218
Dan Dantinne is the office administrator for the Department of Geography, Planning, & Sustainability.  In addition to overseeing the daily functions of the department, he provides direct support to the Department Chair and facilitates the operations of both faculty and student initiatives.  He has been a part of Rowan University for 6 years and strives to provide the very best environment and experience for the entire Rowan community.

Katrina McCarthy Shand
Research Associate
B.A. in Geography from Rowan U.
shand@rowan.edu
856.256.4830
Linkedin
Katrina focuses on educational geospatial project management and is interested in tackling environmental issues through GIS. She is currently working on NJ MAP (njmap.rowan.edu), a municipally focused interactive map developed for better decision making in the Garden State. She currently lives in central New Jersey and oversees research projects at the Geospatial Research Laboratory.
Advising Staff

Nadia Rahin
Undergraduate Academic Advisor
M.A. in Counseling in Educational Settings from Rowan University
rahin@rowan.edu
856-256-5821
Robinson Hall 315E
Nadia's academic advising career began at Rowan University in 2014 at the University Advising Center assisting with general advising needs, helping students explore different majors and careers. She had then transitioned to the College of Education Advising Center by 2016 helping students pave a path toward obtaining their state teacher certifications to work in NJ public schools. By 2023, Nadia made another transition to advise students in the School of Earth and Environment. She has knowledge and understanding of academic and university policies, campus resources with a counseling background. Nadia has worked with a diverse population of undergraduate students and is eager to help students meet their individual academic and career goals at Rowan University.

Christina Pellegrino
(Graduate) Advising Specialist
Ph.D. in Higher Education from Seton Hall University
pellegrinoc@rowan.edu
856-256-5435
Dr. Christina Pellegrino recently joined Rowan's OASIS team to support and advise graduate students.  Christina earned her Ph.D. in Higher Education from Seton Hall University.  She has served as an educator and advisor in K-12 and college settings, including public and private sectors.  She has over 15 years of experience, specializing in advising, teaching, and higher education policies.  To that end, Christina's dissertation investigated the impact of test-optional policies on admissions.  Her research may be found here.
Ask me about:  Grad student life!  Ready to help with and chat about student processes and services; assessment, advising, and pedagogical theories; research and writing; and NJ teacher, supervisor, and principal licensures.  Aside from education, feel free to ask me about any vegan topic!