Department Staff
Department Staff
Department Staff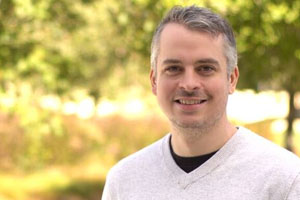 Steve Berg
National Guard GIS Program Manager
B.A. in Environmental Studies from Rowan U.
bergs@rowan.edu
Robinson Hall 301
Steve Berg is the GIS Manager for the National Guard's Construction and Facilities Mapping Program hosted in Rowan's GeoLab. He instructs interns on how to manage 45+ military installations in NJ and helps them translate their coursework to a professional GIS office environment. His previous work experiences include Real Property and GIS management for gas, electric and water utilities.

Mike Brein
GIS Technician and Support Specialist
B.A. in Geography from Rowan U.
brein@rowan.edu
856.256.4861
Robinson Hall 315H
Mike Brein plays the role of technical support for the Department of Geography, Planning and Sustainability. He is responsible for the maintenance and upkeep of hardware and software, and supporting various departmental and faculty projects.

Teressa Stringfield
Administrative Assistant
stringfield@rowan.edu
856.256.4811
Robinson Hall 315I
Teressa is the administrative assistant for the department. Her role within the Geography, Planning, and Sustainability Department is to oversee the daily function of the office as well as a direct support to the Department Chair, Dr. Kevin Keenan. She has been with Rowan for 5 years now. In addition to being a full time employee, she is also studying for her bachelor's degree in Law & Justice. In her spare time she enjoys family time with her husband and 3 boys. 

Katrina McCarthy Shand
Research Associate
B.A. in Geography from Rowan U.
shand@rowan.edu
856.256.4830
Linkedin
Katrina focuses on educational geospatial project management and is interested in tackling environmental issues through GIS. She is currently working on NJ MAP (njmap.rowan.edu), a municipally focused interactive map developed for better decision making in the Garden State. She currently lives in central New Jersey and oversees research projects at the Geospatial Research Laboratory.

Harold Thompson
Academic Advisor
M.A., Student Personnel Services, Rowan U., Glassboro, NJ 1998
thompsonh@rowan.edu
856.256.5719
Robinson Hall 316D
Harold has over 18 years of experience in undergraduate/graduate academic advising, career counseling and co-operative education. He advises Geography & Environment students about academic requirements, tracks students' academic progress and fosters awareness of University resources to promote academic success.