New Jersey Geographic Alliance
New Jersey Geographic Alliance
New Jersey Geographic Alliance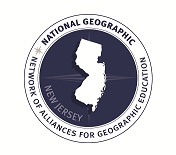 Welcome to the New Jersey Geographic Alliance (NJGA) with its central office located at Rowan University, Glassboro, New Jersey. The New Jersey Geographic Alliance, referred to as NJGA, is a non-profit, volunteer network of teachers and geographers who are committed to using geographic content and skills to improve the educational experiences of New Jersey teachers and students in K-12 education.
Mission Statement
The mission of the New Jersey Geographic Alliance, sponsored by the National Geographic Society, is to empower a global citizenry by elevating the stature of geography in the school curriculum and developing teachers and students who strive for excellence in the lifelong learning experience. Our organization, strives to ensure that New Jersey citizens are global thinkers, problem solvers, and internationally competitive leaders by fostering communication, collaboration, educational outreach programs and research-based initiatives targeting geography content and skills.
Our Goals
To improve the quality and scope of geographic education throughout New Jersey.
To provide pre- and in-service geographic training, resources, and research-based initiatives.
To actively foster standard-based geographic learning and to assist school districts in developing K-12 geography curricula.
To infuse geography across disciplines.
To offer consultants for K-12 teachers to assist teaching geography across subject areas.
To provide statewide geography programs for New Jersey school children, with emphasis placed on underrepresented populations.
To develop and disseminate high-quality teaching materials.
To participate in educational reform at the district, state, and national levels.
To foster public awareness of the importance of geography in a global society, in general, and the state of New Jersey, specifically.
Join Us
For membership information and/or additional information, please visit NJGA.org or contact one of the following coordinators.
Katrinka Somdahl-Sands, Ph.D.
Co-Coordinator
New Jersey Geographic Alliance
Rowan University
Department of Political Science & Economics
201 Mullica Hill Road
Glassboro, NJ 08028
Email: somdahl-sands@rowan.edu
Phone: 856.256.4811
Fax: 856.256.4670

Wayne T. Zanni, M.A.L.S.
Chair of Advisory Board
New Jersey Geographic Alliance
Rowan University
Department of Geography & Environment
201 Mullica Hill Road
Glassboro, NJ 08028
Email: zanni@rowan.edu
Phone: 856.256.4811
Fax: 856.256.4670