Projecting Future Art
Projecting Future Art
Projecting Future Art - Exploring Public Art, Space, and Social Life at Rowan University Urban Geography Spring 2019
This Urban Geography class studies the city and urban processes through art. Specifically, it revolves around a critical urban geography concept known as "the right to the city." The right to participate, to be represented, in the place where you live is increasingly recognized as integral to the well-being of individuals, communities, and places. We set out to explore "the right to the campus" through studying campus public art and public space using observational and participatory methods and projection mapping technology. The goal of this project is to study, and ultimately strengthen, student appreciation of and engagement with campus public art and space at Rowan University.
Urban Geography students administered a campus public art (inspired by the Monument Lab in Philadelphia) survey that invited students and campus users to share what they appreciate about campus public art now, and what they wish to see represented in the future (and where would they.  After analyzing the survey results, three prevailing themes emerged, a desire for: 1) greater diversity of public art, in both the subjects and artists themselves (representations of diverse lived experiences); 2) more student-oriented art (art made by and for students, art that deals with timely topics of interest to students, like sustainability); and 3) campus public art that is interactive, immersive, and temporary (murals, projection, performance, art embedded in landscape architecture and design).
In response to these themes, Urban Geography students proposed and designed a pop-up mural making event entirely made by, and for, students from diverse campus communities and clubs. The goal was to temporarily increase student's feelings of inclusion and representation in public art and space.  Check out this video made by the Digital Scholarship Center to see what they did.
Projecting Future Art Project collaborators include the Department of Geography, Planning & Sustainability, the Rowan Libraries Digital Scholarship Center, the Rowan Art Gallery, and the Center for Art & Social Engagement, and Campus Recreation. This project was supported by a Rowan University Innovations in Teaching Using Technology Grant awarded by the Faculty Center and Technology Services (Fall 2017).
Spring 2019 Student Artist's Statement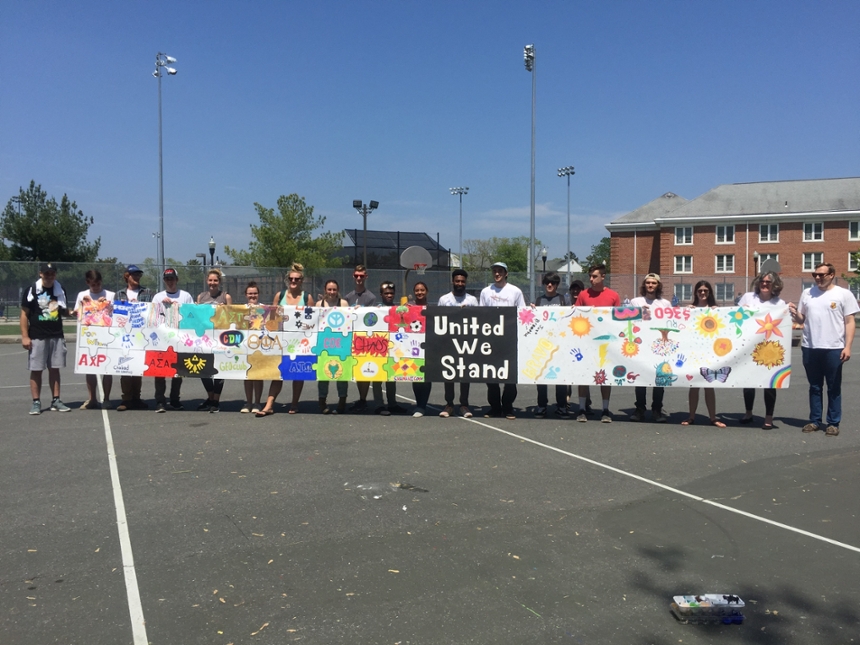 Throughout this semester we've been studying the students' right to the campus and how public space can be used and improved. Through this project, we've distributed surveys that took into account the opinions of Rowan Students and how they perceive campus public art. Many felt that there was little student representation in the campus art and wished to see more student-influenced art and student-created art.
This piece was thought of by our Urban Geography class and was created/worked on completely by students. The goal of this project was to create a sense of unity and inclusion of all Rowan students. The left side represents unity among students and organizations through the puzzle-piece design. The right side was left open for students to express themselves through their artwork.